Early work 1999-2002
In 2002, while working for Josh Owen Design, I conceptualized a set of salt and pepper shakers that would be interactive for tabletop play. The pair would magnetically attach together to form the shape of a child's top. The set was produced by Kikkerland for Josh Owen in 2005.
While a design a Eldon Design Associates, I created packaging for high-end fly fishing line as a new product category for a large manufacturer of advanced fibers. Concepts included multi-function packaging and also explored forms that would differentiate the brand when merchandised.
While teaching courses at The Art Institute of Philadelphia, I aided the PR department in creating many promotional window displays for their historic window fronts facing Chestnut Street in center city Philadelphia. This display was based on the 2005 Philadelphia Flower Show theme "America the Beautiful." This design was given the "Crowd Favorite" Award by the Philadelphia Horticultural Society (2005).
Winner of the fourth annual International Design Resource Awards (2003), OURO footwear has been recognized for their excellence as sustainable design. Developed as my thesis project during my bachelors of science of industrial design degree program at Philadelphia University they continue to be exhibited worldwide as part of the Design Resource Institute collection. The project has been published in the Eco Design Handbook, Awarded excellent in student work at ICFF and at the Saint-Etienne International Biennale, and is a part if the permanent collection at the West Washington University, Huxley College of the Environment.
This project involved intense research into materials, fashion, construction, and the marketing aspects of sustainable design. In addition to designing and prototyping the footwear, I created the branding and advertising for OURO. These asymmetrically laced shoes are constructed of recycled leather and tire rubber, and have an aesthetic derived from Spanish footwear. This project was realized as a thesis in the marketing of environmentally friendly products, which also included a proposal for innovative manufacturing systems that would embrace cyclic design.
I assisted the product design and styling of the first product range for the start-up company StorageSquared. These tool storage systems comprised of walll boards that allowed for mounting of interchangeable metal and plastic bins, shelves, and hooks. Aesthetic inspiration came from the automotive, sports equipment, and hardware industries. My main responsibilities were to generate forms, model & engineer parts in Solidworks, create renderings, layout mechanical drawings, and inspect sample parts. In addition, I aided in creating the assembly instructions, marketing packets, and packaging concepts.
In 1999, I worked as a product and architectural model maker for Michael Graves Design Group. I primarily created foam models for product concepts developed for Target.
The design of the Saddle Shakers (2003) evolved from a study of leather working, and drew inspiration from mid-century saddle shoes. Attention was specifically paid to replicating the perforated pattern of the saddle shoe, while also making the holes functional for dispensing salt and pepper. The interior of the shaker is a vacuum formed shell, designed to be fit with a standard rubber plumbing cork. This allows the shaker to be sturdy and sanitary.
I worked with the small team at Eldon Design Associates to develop concepts for parts of a stroller to be developed by the Asian manufacturer Goodbaby for the American market. My designs are based our office's trend research, input from market consultants, and from collaborations with a textile designer.
The Antiques of the Future collection is intended to raise public awareness of superior product design and includes over 250 products that the curator believes will significantly increase in value, once they are no longer in production. I lead the development of the product selection, research, and management the database feeding the collection's website. I also took part in authoring, digital imaging, promotional materials and assisted in art direction for AntiquesoftheFuture.com and for the owner's first publication.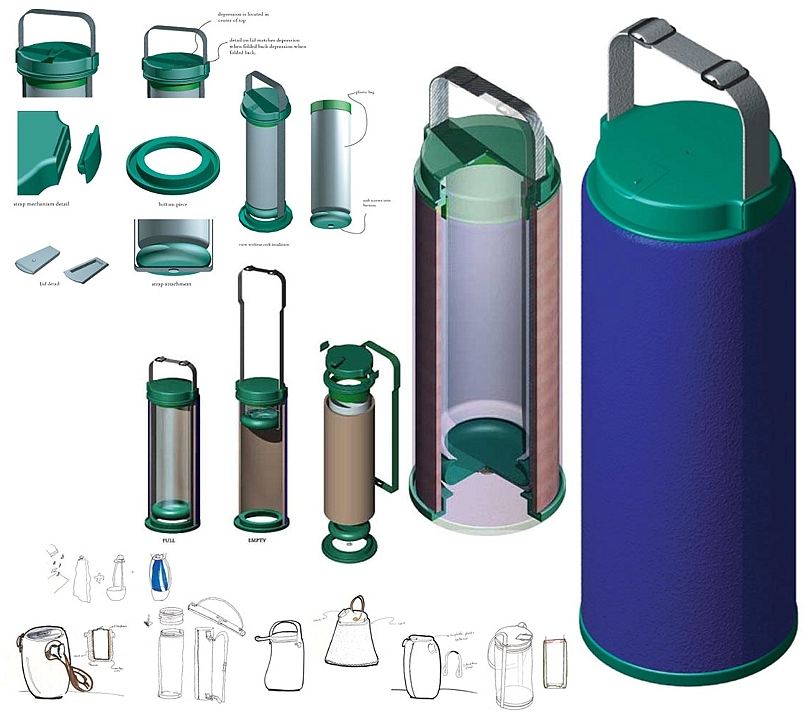 I graduated cum laude from the Industrial Design undergraduate program at Philadelphia University in 2002. Among the range of projects I completed in the program, some of my favorites were a sustainable redesign of a Coleman Thermos, a soft chair that uses no hardware to construct, a high tech dog training system, and a humidifier that lets kids take part in the daily ritual of refilling.
I also completed several study abroad programs at the Konstfack School in Sweden, at Altos de Chavon in the Dominican Republic, and at the Glasgow School of Art in Scotland. While at GSA (2001), I created a series of disposable cameras that had cases showing photography I had taken around the campus. These were manufactured and sold in the gift shop for tourists interested in capturing the surrounding architecture of Charles Rennie Mackintosh.